Peripheral Vascular Medicine
Make an Appointment
Our team is here to help you make an appointment with the specialists that you need.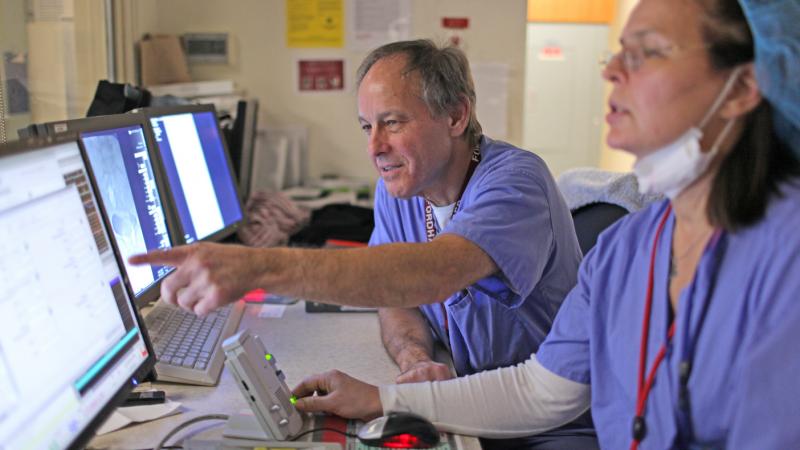 Peripheral Vascular Disease (PVD) is a form of atherosclerosis. Plaque (made up of cholesterol, other fats, and calcium) can build up inside the artery walls over time, ultimately restricting normal blood flow. When this happens in the arteries located outside the heart – those that supply blood to the internal organs, arms, and legs – this can cause significant pain and limitation to quality of life.
Columbia's PVD program offers a multidisciplinary, clinically integrated, and patient-centered approach to the management of complex, acute, and chronic vascular diseases.
Comprehensive Approach That Starts With the Least Invasive Treatments
Our peripheral vascular disease experts take a comprehensive approach to the management and treatment of PVD, beginning with lifestyle changes such as smoking cessation, weight loss, and exercise, along with medications. If these interventions alone cannot control a patient's PVD, our vascular specialists will use minimally invasive procedures such as balloon angioplasty, atherectomy, and stenting to clear narrowed blood vessels and restore blood supply to the affected limbs. If these procedures are unsuccessful, or if the disease is too extensive for minimally invasive techniques, we also offer open surgical treatment.
Expert Care Supported by Ongoing Research
Because we have an outstanding and robust research program, patients will have access to the most current innovations in vascular research, including drug coated balloons, new stents, and stem cell therapies for peripheral vascular disease, new abdominal aortic endografts which replace the need for surgery and decrease recovery time, as well as new systems used to deploy carotid artery stents and better protect the brain from strokes. We actively lead and participate in clinical trials of renal denervation (a way of treating hyperactive renal nerves which may be a significant contributor to high blood pressure).
Patients with peripheral vascular disease often have recurring blockages affecting multiple vascular beds, which require vigilance and longitudinal care. We are actively committed to caring for patients on a long-term basis with intermittent follow up appointments which are customized, creative, and patient focused.
Conditions We Treat
We care for patients with all types of peripheral vascular disease, venous disease, and the complications of chronic venous insufficiency.
Abdominal aortic aneurysm
Atherosclerosis
Carotid artery disease
Claudication
Critial limb ischemia (ulceration)
Peripheral arterial disease
Peripheral artery insufficiency
Peripheral vascular atherosclerosis
Varicose veins
Vascular disease, peripheral
Venous (Peripheral) insufficiency
Pulmonary embolism
Deep venous thrombosis
Chronic thromboembolic pulmonary hypertension (CTEPH)
Resistant hypertension
Renal artery stenosis