Active BP Blood Pressure Monitoring
Make an Appointment
Our team is here to help you make an appointment with the specialists that you need.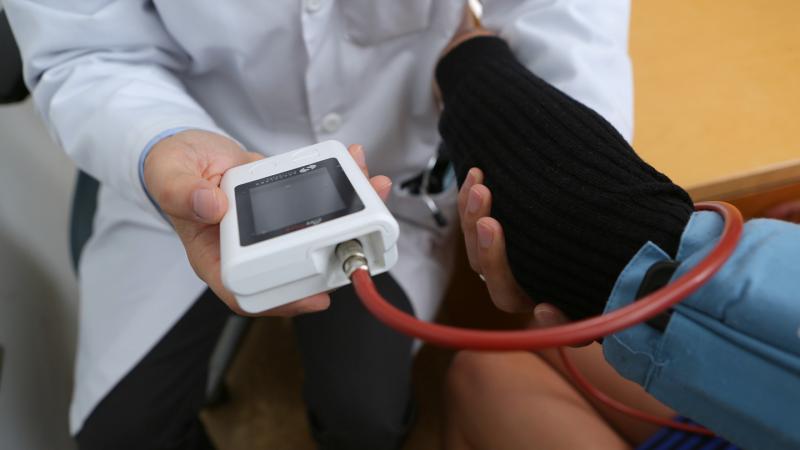 High blood pressure, also known as hypertension, is the most common cardiovascular disease. High blood pressure does not usually cause symptoms at first, but if high blood pressure is sustained over time, it can damage your arteries and increase risk for serious medical conditions such as heart attacks, strokes, and kidney disease. White-coat hypertension refers to patients who have high blood pressure when measured in the doctor's office but normal blood pressure when measured outside of medical settings. Patients with white-coat hypertension do not need to take medications for hypertension. About 1 in 5 hypertensive patients has white-coat hypertension.
Who should undergo 24-hour blood pressure monitoring?
Most patients with an elevated blood pressure in the doctor's office should undergo 24-hour ambulatory blood pressure monitoring. Ambulatory monitoring is used to help these patients learn whether they truly have hypertension and not just white-coat hypertension. Ambulatory monitoring is also useful for patients who are having trouble getting their blood pressure under control despite treatment and for patients who want a better understanding of their blood pressure health.
Active-BP Ambulatory Blood Pressure Monitoring
ActiveBP's ambulatory blood pressure monitoring service provides:
Individualized, 24-hour ambulatory blood pressure monitoring)
Physician feedback to your primary care provider or cardiologist (download sample physician report)
Your blood pressure will be monitored for a 24-hour period. In order to get the most accurate understanding of your blood pressure, we recommend you wear the device for as much of the 24 hours as you can.
During Your Visit
Your visit will last about 30 minutes.
You should wear a button down or loose fitting shirt so the blood pressure cuff can fit comfortably on your upper arm.
A coordinator will ask you some basic health questions and show you how the ABPM device works.
The coordinator will demonstrate how to properly take off the device and put it back and a test reading will be taken.
While You Wear the Device
During the day and while you sleep the device will take your blood pressure every 30 minutes. Each time a measurement is taken you should try to stand or sit still with your arm straight and at your side.
The ABPM device is not waterproof, so you should not shower or perform strenuous exercise while wearing the device.
If you need to remove the device for any extended period of time, please turn it off and keep it in a safe place.
When You're Finished Monitoring
After you have worn the device for 24 hours it can be shipped back to the Columbia physician where they will download the device and develop a report of your reading for you and your physician. Call 212-342-1273 for more information on returning the ABPM device.