Cardiogenetics Clinic
Make an Appointment
Our team is here to help you make an appointment with the specialists that you need.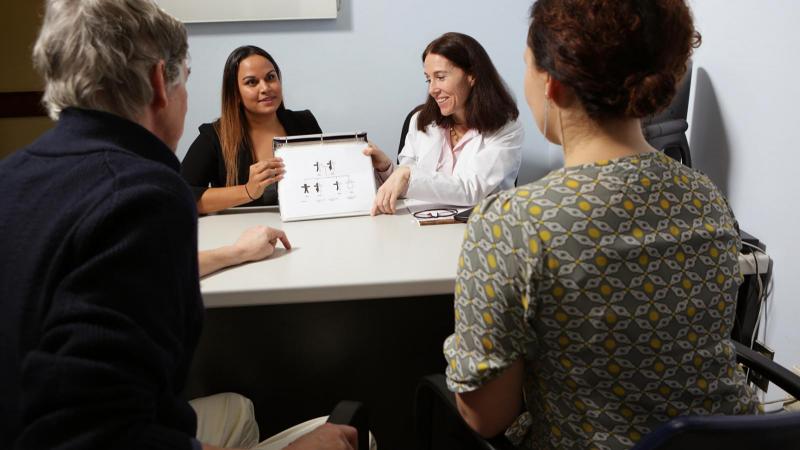 The Cardiogenetics Clinic provides comprehensive cardiovascular evaluations, genetic counseling, genetic testing and individualized treatment plans for patients with, or, at risk for inherited cardiovascular conditions. We provide state-of-the-art cardiac care and evaluation for patients with a diagnosed or suspected clinical genetic diagnosis. Our goal is to empower patients with genetic information that will help them to make decisions that are beneficial for the patient and their family.
The clinic brings together experts in adult cardiology and medical genetics to identify, screen, and manage patients and families affected by an inherited heart condition. Our team includes highly experienced clinical geneticists, cardiologists, and genetic counselors who provide a range of services, including:
Inpatient and outpatient consultation
Comprehensive risk assessment of personal and family history
Genetic counseling and genetic testing
Individualized screening and treatment options
Patient and family education and support
Coordinated care with referring physicians (primary care, cardiologists, etc)
Research Program
Testing for Genetic Heart Conditions
Genetic testing is a medical test that identifies your DNA. The results of a genetic test may help guide or determine the cause of a cardiovascular condition. Additionally, genetic testing can help you determine their risk of developing or passing on a cardiovascular condition to your children. Since genetic testing is complicated, we encourage patients to meet with a genetic counselor to better understand the benefits and limitations of genetic testing. Testing is currently available for the following disorders:
Progressive Cardiac Conduction Disease
Hypertrophic cardiomyopathy
Dilated cardiomyopathy
Arrhythmogenic right ventricular cardiomyopathy
Left Ventricular Noncompaction and Restrictive Cardiomyopathy
Aortopathies
Familial Hypercholesterolemia
Innovative Research
In recent years, there has been rapid growth in understanding the genetic basis for a wide variety of cardiovascular disorders. At the forefront of research, the Cardiogenetics Clinic is studying the molecular basis for genetic cardiac disease and is applying that knowledge to the clinical setting enhancing the treatment and care of patients and their families. Our patients have the opportunity to participate in cutting-edge research that aims to understand how a person's genetics, environment, and lifestyle can help determine the best approach to prevent or treat disease. If you are interested in being part of our research effort, please contact us at: cardiogeneticstudy@cumc.columbia.edu.