Hereditary Breast and Ovarian Cancer
Make an Appointment
Our team is here to help you make an appointment with the specialists that you need.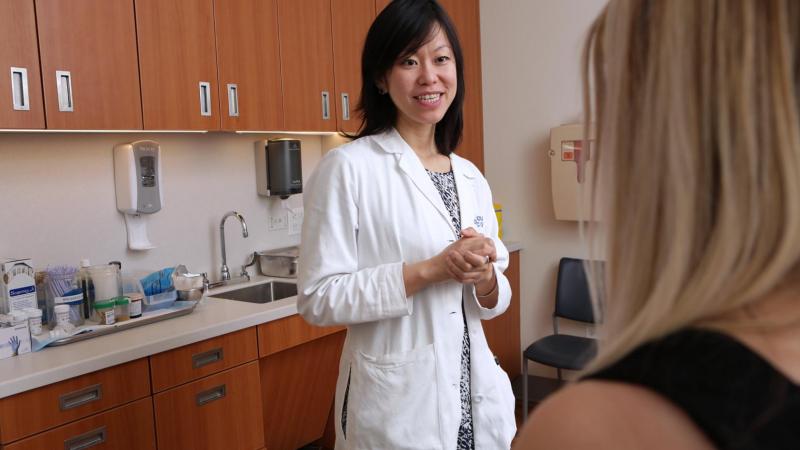 The Hereditary Breast and Ovarian Cancer Program aims to empower women with knowledge about their individualized risk and to provide seamless integration of diagnostic testing, risk-reducing strategies, and clinical research trials to achieve a personalized strategy for cancer prevention and treatment.
Approximately 5-10% of breast cancer and up to 25% of ovarian cancers are caused by a heritable genetic condition. After age, a significant family history is the strongest known risk factor for breast and ovarian cancer.
The Hereditary Breast and Ovarian Cancer Program at Columbia University Irving Medical Center is a comprehensive, multi-disciplinary initiative offering individualized consultation for women who have been diagnosed with or may be at risk for hereditary breast and/or ovarian cancer. We bring together experts across different fields who are dedicated to help patients navigate the resources of a world-renowned academic institution, including:
Leading-edge genomic testing
Genetic counselors with expertise in hereditary cancers
Screening imaging such as breast MRI, mammography, and breast and pelvic ultrasounds,
Individualized consultation with specialists in genetics, breast oncology, surgical oncology, and gynecologic oncology 
Our Approach
Multi-disciplinary Genetic testing and Counseling: We collaborate with the Clinical Genetics Program experts at CUIMC to help you understand the risk factors for cancer, and more specifically, your personal risk factors after reviewing your family history and medical and lifestyle risk factors. We will also guide you and offer assistance about genetic testing if and when it's appropriate, as well as counseling of the results.
Screening & Prevention Services: We offer state-of-the-art breast and ovarian/pelvic imaging, imaging guided-biopsies, and sonohysterograms using minimally invasive techniques. We collaborate closely with our Gastrointestinal Oncology experts to seamlessly integrate endoscopy and colonoscopy procedures if needed as part of the cancer surveillance process. We also counsel patients regarding risk-reducing surgeries, risk-reducing supplements and medications, and guidance on risk-reducing lifestyle modifications and general wellness.
Clinical Trials: For women at increased risk for cancer, we are continuously exploring novel and cutting-edge screening and risk-modifying strategies through clinical trials. Our experts will offer guidance on opportunities to participate and join in our effort to gain knowledge and prevent cancer.
Community Outreach and Education: We are committed to empower our patients through education and outreach events. We partner with Columbia's Clinical Genetics Program to deliver a series of educational and supportive seminars for our patients and family, as well as to the community in which we serve.