Comprehensive Pelvic Pain Program
Make an Appointment
Our team is here to help you make an appointment with the specialists that you need.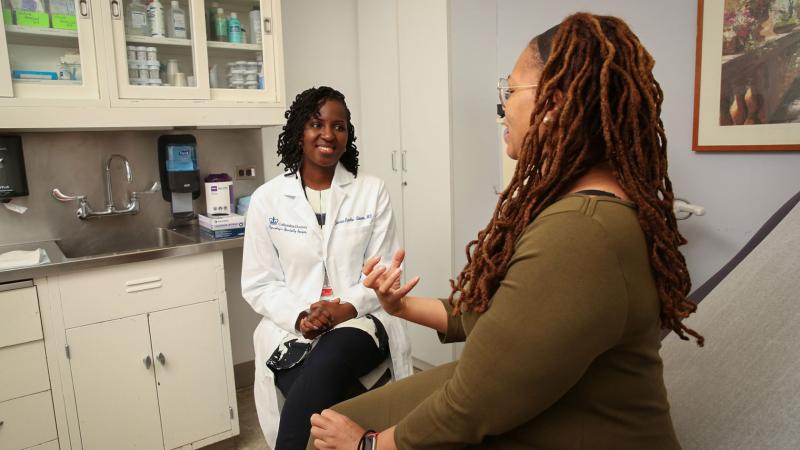 The Columbia University Comprehensive Pelvic Pain Program provides individualized treatment, support, and management options for patients with endometriosis. Our team is comprised of experts from diverse backgrounds and specialties, ensuring that each patient has access to a comprehensive, holistic, and sustainable care plan.
Endometriosis  is a condition in which endometrial tissue, which lines the uterus, grows in areas outside the uterus. It generally causes pain and discomfort – which can be severe – especially during your menstrual cycle. It can also lead to infertility. For some patients with endometriosis, regular daily activities can be challenging and painful. When patients in their childbearing years are diagnosed with endometriosis it can be emotionally challenging.
Learn More About Endometriosis
Our Approach
At Columbia Ob/Gyn, we believe in treating the whole patient, including all of the physical, mental, and emotional complications that can arise from endometriosis. Our holistic and individualized approach involves coordination with our gynecologic specialty surgery experts as well as specialists from across the medical center, including fertility, radiology, general gynecologic care, pain management, and mental health and wellness. We work closely with our multidisciplinary team to coordinate your care and ensure that managing your condition is as stress-free as possible for you.
For patients who are concerned about fertility, we offer expertise with a full range of medical and minimally invasive surgical treatment options so that fertility preservation can be our top priority.
When surgery is needed, we strive for the least invasive approach possible, so that you can return to normal, pain-free daily life. Our team has deep expertise with laparoscopic and robotic-assisted surgery – techniques which are particularly successful when fertility preservation is a priority. With these types of surgeries, the ability to make small incisions and precise movements helps preserve healthy tissue and has many other benefits, including faster recovery time, less scarring, less pain, and fewer complications.
Webinar Series
Meet Our Team
Gynecologic Specialty Surgery
Pediatric and Adolescent Gynecology
Urogynecology
Women's Mental Health @Ob/Gyn
Integrated Women's Health
Colorectal Surgery
Pain Service Providers
Our Locations
ColumbiaDoctors - Midtown
51 West 51st St
3rd Floor
United States
CUIMC/Herbert Irving Pavilion
161 Fort Washington Avenue
4th Floor
United States