​Uterine Fibroids
Make an Appointment
Our team is here to help you make an appointment with the specialists that you need.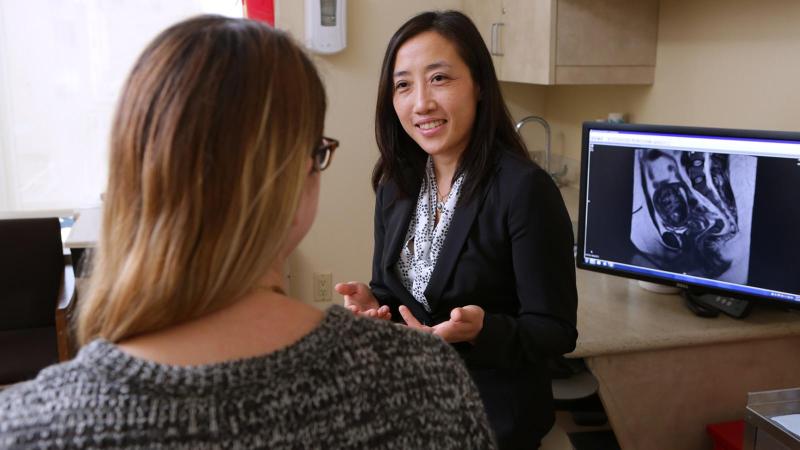 Uterine fibroids are benign (noncancerous) growths that appear in the uterus. They range from the size of a seed to a grapefruit, with extreme cases growing even larger. For most women who have uterine fibroids there are no symptoms, complications, or increased risk of cancer. Many women don't know they have fibroids until they discovered during a routine pelvic exam or ultrasound.
When fibroids aren't causing symptoms, they do not need treatment. For women with fibroids that are causing troublesome symptoms, such as abnormal bleeding and pelvic pain, there are many treatment options.
Center for Research and Advanced Fibroid Treatment (CRAFT)
Columbia's Center for Research and Advanced Fibroid Treatment (CRAFT) provides comprehensive, advanced treatment for women with uterine fibroids. Our patients have access to the latest fibroid treatments, including hormonal management, myomectomy, and hysterectomy. Patients also have access to novel investigative treatments, such as laparoscopic guided radiofrequency fibroid ablation.
The center coordinates services among gynecology, reproductive endocrinology, radiology, interventional radiology, and hematology – helping you to understand all non-surgical and surgical treatment options so that you can find the treatment that works best for your individual needs. For women in their reproductive years, our focus is on preserving your reproductive organs while treating your fibroids.
Our expert surgical team is renowned for its skill in using laparascopy and robotics to manage even the most complicated conditions. These minimally invasive techniques result in smaller scars, faster recovery times, and fewer complications. We are dedicated to finding the least invasive treatment for your fibroids.
Locations
We currently care for patients at the following locations:
161 Fort Washington Ave, 4th FL
New York, NY 10032
516 Route 303
Orangeburg, NY 10962    
51 West 51st Street
New York, NY 10019
696 White Plains Road
Scarsdale, NY 10583